Chocolate Chunk Chewy Crisp Cookies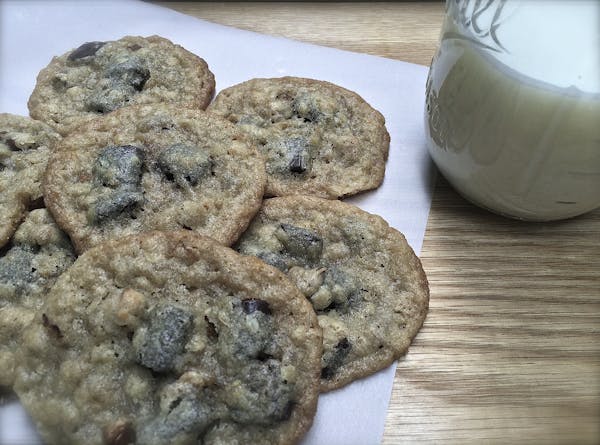 Allow me to explain my perfect idea of a chocolate chip cookie. It's chewy (not just when it's fresh out of the oven), yet has a little bit of crunch and texture to it. It's slightly golden, slightly salty, not overly sweet, not too thick or airy, and doesn't crumble at the first bite. That is a tricky combination to achieve. Luckily, there are a few tricks with this recipe that have led to a perfectly delicious chocolate chip cookie.
The Tricks
MELTED BUTTER (as compared to softened butter) will make your cookies rise less while baking, which I prefer.
Only use EGG YOLKS. Egg whites take away from the moisture of the cookies, which we do not want.
Add crushed CHEX MIX into your cookies. This adds a perfect balance of salt and crunch into the cookies.
FREEZE your cookie dough for 20 minutes, or refrigerate at least an hour, before baking. This prevents the cookies from spreading while baking because the butter is hardened when it goes into the oven. As the butter melts, the cookie dough becomes greasier and more liquefied and will spread more gradually.
DON'T OVERCOOK the dough. Remove the cookies from the oven when they look just slightly golden or almost under-cooked. As your cookies cool, their consistency and color change completely.
IMMEDIATELY REMOVE the cookies from the pan. If you leave them on the pan to cool, the bottom of the cookie may cook more or burn.
CHOCOLATE CHUNK CHEWY CRISP COOKIES
Prep time: 25 minutes │ Cook time: 13 minutes │ Total time: 1 hour (frozen dough process)
Makes roughly 3 dozen cookies
Ingredients:
1 ½ cups all-purpose flour
1 teaspoon baking powder
½ teaspoon baking soda
½ tablespoon sea salt (or regular salt)
1 ¾ sticks melted (or almost melted) butter
1 cup granulated sugar
½ cup light brown sugar (dark brown will work fine, too)
½ teaspoon cinnamon
1 egg yolk
1 teaspoon vanilla
1 cup dark chocolate chunks
[OPTIONAL] ¾ cup oats (quick oats, rolled oats, etc.)
[OPTIONAL] ¾ cup crushed Chex Mix (optional)
[OPTIONAL] ½ cup chopped pecans or walnuts
Instructions:
Preheat oven to 375 degrees F.
Line baking sheets with parchment paper (optional). Two or three pans are normally needed. If you do not have parchment paper, line the pan with aluminum foil. If you do not have aluminum foil, grease a nonstick baking sheet with canola, walnut oil, vegetable oil or butter.
Stir flour, baking soda, baking powder, salt and cinnamon into a medium bowl until evenly mixed.
In a separate large mixing bowl, whisk butter, granulated sugar, brown sugar, vanilla and eggs for about 2 minutes until well blended with no clumps.
Slowly add the flour mixture to the large mixing bowl with sugars (add a quarter of the flour mixture at a time, mix, and repeat). Mix until blended well and smooth.
Add the oats, Chex mix, chocolate chunks and nuts and mix well with a wooden or large metal spoon.
Taste the cookie dough.
Okay…stop tasting the cookie dough now.
Important: Refrigerate the cookie dough for at least one hour before baking. This will prevent the cookies from spreading too much while baking. If you want to speed up the process, roll the cookie dough balls onto the pan (Step 10) and freeze for 20 minutes.
Roll the dough into smooth 1 ½ to 2 tablespoon balls of cookie dough. Do not roll them too large because these cookies will spread while baking. Place the cookie dough balls on the lined baking sheet with 2 inches between each.
Bake on the middle rack of the oven 13 to 15 minutes, or until just slightly golden brown. To bake the entire batch of cookie dough, you may need to bake 3 batches separately since the middle rack is needed*. Remove from pan immediately when they are done baking so they do not continue to cook. (You can lift the parchment paper with cookies off of the pan and move to a flat surface to cool).
*I usually bake only half of the cookie dough recipe, and refrigerate or freeze the rest of the dough.