Coconut Baked Shrimp with Peanut Lime Sauce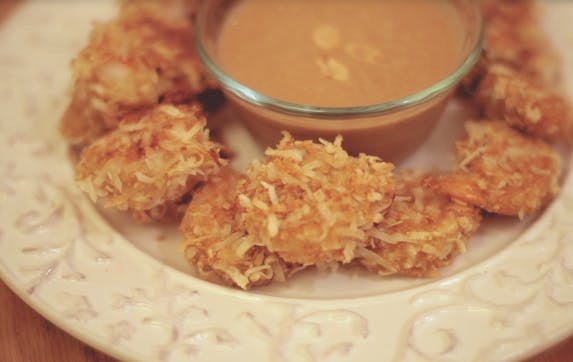 Introducing a combination of Thai and Caribbean flavors, these non-greasy, delightful baked bites will make you wonder why one would ever need to fry shrimp in the first place. The dipping sauce (while optional) is extremely addictive with hints of lime and spice to shake things up.
Other pairings with this dish in lieu of the dipping sauce include:
Sweet Red Chili Sauce
Pesto Pasta
Jasmine Rice
Caesar Salad
Green Salad with Mango
Trust me on this one.
_________________________________________________________________________
COCONUT BAKED SHRIMP WITH PEANUT LIME DIPPING SAUCE
Prep time: 15 minutes │Cook time: 15 minutes │Total time: 30 minutes
Servings: Roughly 20 medium or 10 jumbo shrimp
Ingredients:
For shrimp:
1 pound uncooked, peeled shrimp with tails removed (preference)
1 cup shredded sweetened coconut
1 cup Kellogg's® cornflake crumbs (or crushed rice cakes, for gluten-free)
2 eggs
1 teaspoon salt
1/2 teaspoon pepper
Coconut cooking spray (or any oil/non-stick spray for pan)
For peanut lime dipping sauce:
1/4 cup creamy peanut butter
1/4 cup warm water
Juice squeezed from 1 lime (about 2 tablespoons)
1/2 tablespoon soy sauce
1/2 teaspoon srirachi sauce (or other hot sauce)
2 teaspoons honey (substitute with 1 packet Splenda or 2 teaspoons sugar)
Handful cup chopped roasted peanuts, optional
Instructions:
Make dipping sauce: In a medium bowl, whisk together peanut butter and water until smooth with a fork. Stir in lime juice, soy sauce, srirachi and honey until smooth. Sprinkle peanuts over sauce for serving.
Prep: Preheat oven to 425 degrees F. Spray a non-stick baking sheet or pan with coconut spray (or coat pan with oil to make pan non-stick). Rinse shrimp with cool water; remove shell and tails from shrimp. Pat dry with a paper towel.
Coating the shrimp: In a small bowl, combine coconut flakes, cornflake crumbs, salt and pepper. In another small bowl, whisk egg. One by one, dip each shrimp into the egg, then in the coconut crumb mixture. Repeat (dip into egg, then coconut crumb mixture) for a thick coating. Tip: After the second coating, use your fingers to press breading onto the shrimp and make it stick. Place onto baking sheet in a single layer. Once all shrimp are on the pan, spray once over lightly with coconut oil spray, if you have it.
Cook shrimp: Bake on the middle rack of the oven for 10 to 16 minutes, flipping halfway through, until golden on the outside and shrimp is pink. Tip: Make sure to flip carefully, one by one, so breading stays intact. Serve warm.
_________________________________________________________________________
Pair with: Riesling, chenin blanc, wheat beer
Soundtrack Pairing: Coconut (Harry Nilsson)