Coconut Rice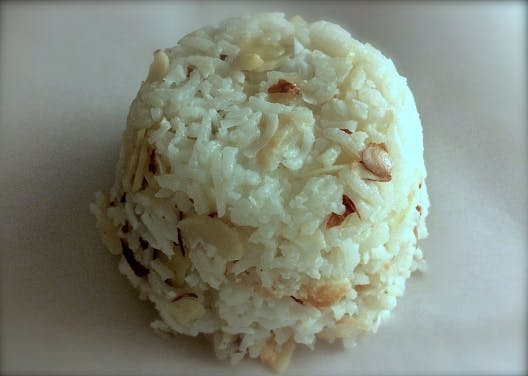 If you enjoy the flavor of coconut, this is a knockout combination to accompany your seafood, meat or stir-fry entree. My mother is Filipino (and an incredible cook) and I grew up eating rice often; sometimes with eggs and tocino (sweet cured pork) for breakfast over the holidays, as an easy after-school snack with soy sauce or even as a staple to accompany an upset stomach. There was always a 20 pound bag of Kokuho Rose sticky rice in our pantry. What sparked my interest in making coconut rice was tasting an incredible version at Mama's Fish House restaurant in Maui alongside grilled ono (a Hawaiian wahoo fish) served in a tea leaf. Since that glorious tropical meal, I've cooked this many times and this coconut infused side never fails to impress. As an added bonus, it looks elegant served in a molded shape on your plate.
_____________________________________________________________________________
COCONUT ALMOND RICE
Prep time: 2 minutes │ Cook time: 22 minutes │ Total time: 24 minutes
Servings: About 3 1/2 cups cooked rice
Ingredients:
1 ½ cups jasmine rice
1 (14 oz) can coconut milk
1 ¼ cups water
1/2 cup shredded coconut flakes, sweetened
1/2 cup slivered almonds (optional)
1/2 teaspoon salt
Diced scallion or cilantro for garnishing (optional)
Instructions:
Rinse rice several times in water until water is no longer cloudy.
Add coconut milk, water and salt to a large pot or saucepan and stir.
Add rice to the pot, turn to medium heat and bring to a boil. Once boiling, reduce to very low heat , cover and simmer for 20 minutes.
Turn off heat and add almonds to the rice. Stir well.
Optional: To mold rice (as in photo), add rice into a small bowl or other shape, and turn the bowl upside-down onto the plate for serving.
Garnish with diced scallion or cilantro and serve.
_____________________________________________________________________________
Pairs well with: shrimp, raw sushi, tuna steak, white fish, salmon, curried meat, savory meat, stirfry vegetables, mango
Soundtrack Pairing: Israel Kamakawiwole (Pandora station)