Salmon Teriyaki Stir Fry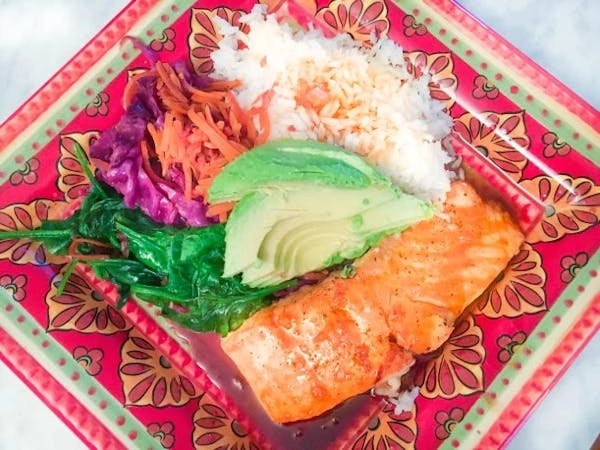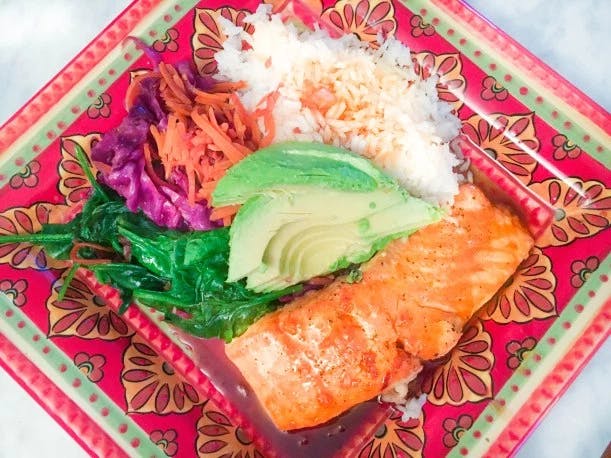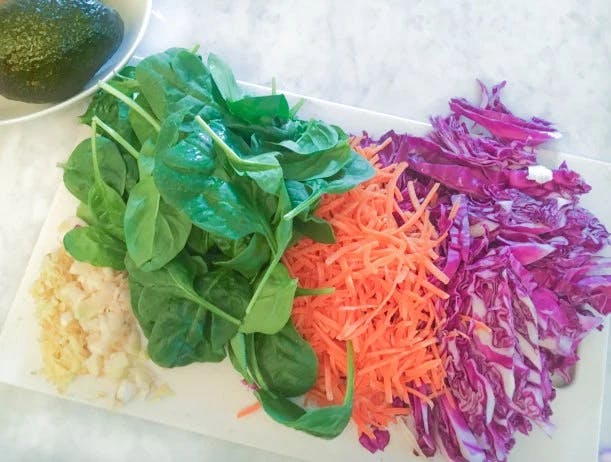 Chopped vegetable preparation for stir-fry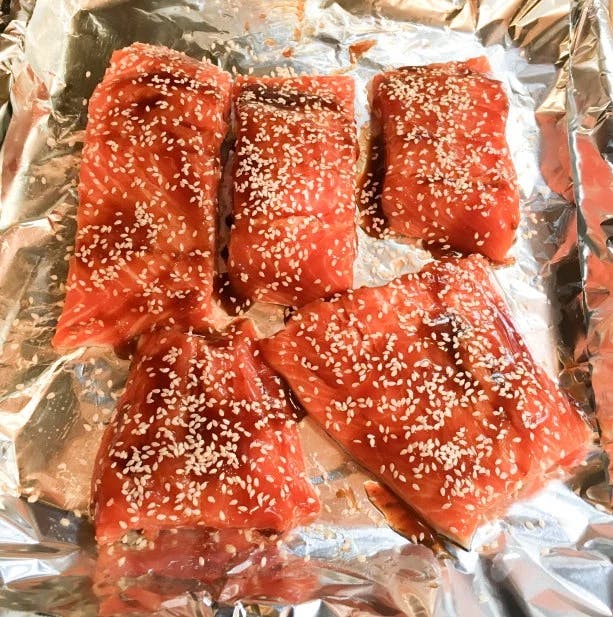 Salmon brushed with teriyaki sauce and [optional] sprinkled with sesame seeds.
This colorful and exotic dish is both impressive and easy to prepare. I haven't always been a fan of salmon. For most of my earlier life I had only tasted it as a basic wedding entree ("salmon or steak?") and didn't have the larger appreciation, or — obsession, that I have for seafood today. This healthy baked salmon recipe minimizes the use of oil or butter, and has a unique twist of Asian flavors and colorful vegetables, also making it beautiful to plate. Enjoy!
_______________________________________________________________________
BAKED SALMON TERIYAKI STIR-FRY
Prep Time: 10 minutes | Cook time: 30 minutes | Total Time: 40 minutes
Ingredients:
Salmon
1.5-2 pounds salmon, cut into 5-6 salmon filets
1/2 cup teriyaki sauce (Tip: I prefer pineapple teriyaki sauce, but choose any thick/chunky in texture bottled sauce)
Optional: 1 tablespoon sesame seeds
Stir-Fry Vegetables (pictured above):
4 gloves of garlic, crushed
2 tablespoons olive oil
1/2 red cabbage head, thinly sliced and chopped
1/2 cup julienned carrots
3 cups spinach
Optional: 1 avocado
Instructions:
Salmon:
Preheat oven to 400˚F.
Grease a large rimmed baking sheet with oil or cooking spray (I use coconut oil cooking spray). Tip: For easier clean-up, cover the baking sheet with foil and then grease.
Place salmon filets on baking sheet, and brush with teriyaki sauce. Optional: Sprinkle with sesame seeds.
Bake at 400 for 13-16 minutes, or until salmon is flaky and cooked through. Bake times may vary by thickness of salmon.
Stir-Fry Vegetables:
While salmon is cooking, heat oil on a large saute pan or wok on medium-low heat. Add garlic and cook until browned and slightly softened.
Add red cabbage, carrots and remaining teriyaki sauce to the pan, stir together, and cook on medium heat for 5-7 minutes, or until softened slightly. Tip: Do not cook until red cabbage is completely wilted which is usually indicated by the cabbage losing it's vibrant purple color while cooking. Softened yet crunchy red cabbage is ideal.
Add spinach to the pan and saute for another 3 minutes, stirring often, until spinach is wilted.
Garnish with sliced avocado, diced scallion and additional sesame seeds. Pour extra sauce from the pan over the vegetable and salmon, and enjoy!
_______________________________________________________________________
Pairs well with: White rice, coconut rice, Pinot Noir, Gewürztraminer, sake.
Soundtrack Pairing: The Salmon Dance (Chemical Brothers), Oceans (Petit Biscuit), Sun Models (Odesza), Reality (Lost Frequencies) Compiled list on YouTube – just hit play!