Shrimp Pasta Medley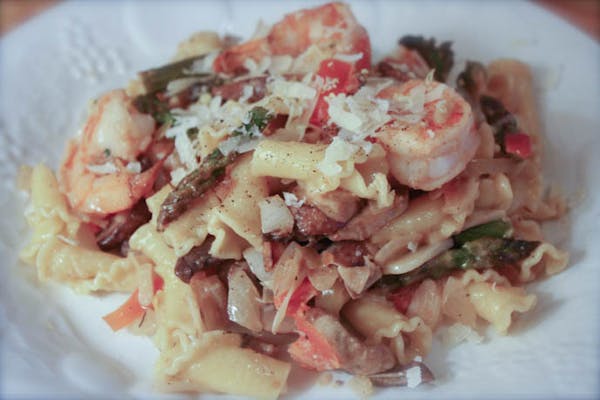 I love a well-crafted pasta dish with a nice balance of vegetables, flavors and herbs. I also love shrimp, and tend to cook it often for several reasons: it's delicious; healthy (low calorie, low fat and a good source of vitamin B12 and omega-3); easier on the wallet than other seafood; elegant; available year-round; and cooks quickly. This flavorful and refreshing pasta dish is bursting with both earthy and sweet flavors brought out by the mushroom, onion, garlic, lemon and wine. Asparagus is currently in season which added a nice touch of green to the dish this time around.
________________________________________________________________________
SHRIMP PASTA MEDLEY WITH MUSHROOM & ASPARAGUS
Prep time: 12 minutes │Cook Time: 28 minutes │Total time: 40 minutes
Servings: 5 to 8
Ingredients:
12 ounces pasta (3/4 of a 1 lb box of pasta)
1 pound uncooked shrimp, tail and shell removed
2 medium yellow onions, chopped
1 pound mushrooms, sliced (cremini or shitake preferred)
Juice from 1 large lemon
1 tablespoon lemon zest (Optional, for garnishing)
1 tomato, diced
2 tablespoons olive oil
3 tablespoons butter
½ cup white wine
8 garlic cloves, minced
6 stalks asparagus, chopped into 1½ inch spears
½ cup parmesan cheese
2 tablespoons parsley, chopped
Salt and pepper, to taste
Instructions:
Prepare ingredients: Wash shrimp and remove shell and tail. Chop onions, mushrooms, tomato, garlic and parsley and set aside.
Cook pasta: Bring a medium pot of salted water to a boil, add the pasta and cook for roughly 8 minutes or until al dente.
Cook onion, asparagus & mushroom mixture: In a large non-stick pan, heat 1 tablespoon butter and 1 tablespoon olive oil on medium-low heat. Add onions, asparagus, mushrooms, 1/2 teaspoon salt, half of the white wine (1/4 cup) and 1/3 of the minced garlic to pan. Sauté on medium heat for roughly 10 minutes, stirring frequently, until the onions are lightly browned and mushrooms are softened. Remove mixture from pan and set aside.
Cook shrimp: Sprinkle shrimp with salt and pepper. To the same (empty) pan, heat another 2 tablespoons butter and 1 tablespoon olive oil on medium heat. Add the shrimp, diced tomato and remaining garlic; sauté over medium heat for roughly 5 minutes, turning frequently, until the shrimp just turn pink. Halfway through cooking, add remaining wine and juice of half a lemon.
Combine: Change heat to low. Add pasta and vegetable/mushroom mixture to the pan with shrimp. Add remaining lemon juice, parsley and parmesan cheese. Stir well and cook for 2 more minutes until well combined. Add salt and pepper to taste.
Garnish with lemon zest and freshly grated parmesan cheese.
________________________________________________________________________
Pairs well with: Green salad, Sauvignon Blanc, Chardonnay
Soundtrack Pairing: Honky-Tonk Woman (Rolling Stones), Mustang Sally (Wilson Pickett), Mary Jane's Last Dance (Tom Petty)