Turkey & Rice Stuffed Peppers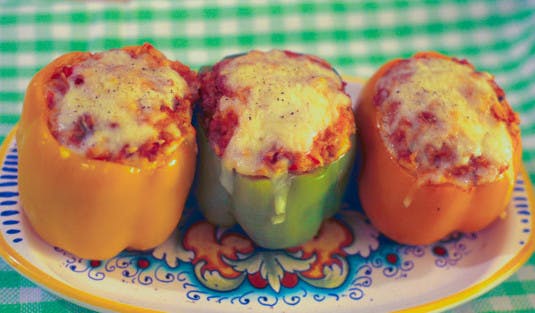 Stuffed peppers are a great recipe to have up your sleeve because they are easy to make, healthy, colorful and make for a nice presentation. These peppers are stuffed with lean ground turkey, brown rice and topped off with melted mozzarella, but feel free to modify the recipe to your liking, or to the ingredients you have in your kitchen. Do you prefer cheddar cheese to mozzarella? Want to use ground beef instead or go vegetarian? Want to swap out the rice with quinoa? Go for it, and enjoy.
______________________________________________________________________________
TURKEY & RICE STUFFED PEPPERS
Prep time: 6 minutes │Cook Time: 42 minutes* │Total time: 48 minutes*
*Not including rice cooking time
Servings: 4 large stuffed peppers
Ingredients:
4 large bell peppers (any color)
1 cup cooked brown rice (about 1/2 cup uncooked)
2 tablespoons olive oil
1 pound lean ground turkey or beef
4 garlic cloves, minced
1 medium onion, diced
1 large tomato, diced
1 (15 oz) can tomato sauce (extra sauce for topping, if preferred)
1 cup shredded mozzarella cheese (1/2 cup for stuffing, 1/2 cup for topping) *Skip for lactose-free
Salt and pepper to taste
Instructions:
Preheat oven to 350 degrees F.
Cut top of bell peppers off; discard seeds and membranes (you want the inside of the pepper to be smooth and rounded like a bowl).
In a medium nonstick pan or skillet, add olive oil and saute minced garlic, chopped onions, ground turkey and cook until meat is browned, roughly 8 minutes. Add rice, diced tomato, tomato sauce, salt and pepper and 1/2 cup mozzarella. Stir well and cook for 3 minutes, or until hot.
Scoop mixture into each bell pepper half. Place stuffed peppers into a casserole dish or baking pan. Sprinkle each filled pepper with a layer of shredded mozzarella cheese.
Bake, covered, for 30 minutes.
Serve with extra heated tomato sauce on top for more flavor.
______________________________________________________________________________
Pairs Well With: Pinot noir, merlot, bread, bruschetta (try my Peach Bruschetta with Honey Feta & Balsalmic Glaze), salad, baked potato, potato chips.
Soundtrack Pairing: Hot Stuff (Donna Summers), Snow (Red Hot Chili Peppers) Youtube Playlist